STAN KROENKE LAUNCHES ARSENAL TAKEOVER BID AS AMERICAN PREPARES BUYOUT VALUING CLUB AT £1.8BILLION
The American is the majority shareholder at the Emirates and has this morning launched an "all-cash" offer to acquire 100% control
Stan Kroenke has launched a takeover bid to take complete control at Arsenal, in a deal valuing the club at £1.8billion.
The American is the majority shareholder at the Emirates and has launched an "all-cash" offer to acquire 100 per cent control, staging a bid to buy Alisher Usmanov's stake in the Premier League club.
Usmanov, who has made several attempts to buy out his rival in the past, will receive £550million for his stake in the club and has given the move his backing.
Kroenke has received "an irrevocable undertaking" from the Uzbek-born Russian billionaire to sell his 30 per cent stake in the club.
A statement from his company, Kroenke Sports Entertainment (KSE), read: "KSE UK is pleased to announce the terms of its all-cash offer to acquire the entire issued and to be issued ordinary share capital of Arsenal Holdings PLC other than the Arsenal Shares already held by KSE.
"KSE, a Delaware corporation wholly-owned by Mr E. Stanley Korenke, currently holds 41,743 Arsenal Shares, representing approximately 67.09 per cent of the existing issued share capital of Arsenal."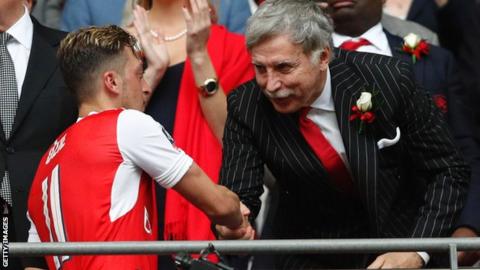 A declaration from Kroenke states: "We at KSE are moving forward with this offer leading to 100 per cent ownership of the club.
"We appreciate Mr Usmanov's dedication to the Arsenal Football Club and the storied ethos and history the Club represents."
Usmanov, despite being the second-largest shareholder, has not been given a seat on the club's board.
Kroenke will pay £29,419.64 in cash per Arsenal share to take complete charge.
Kroenke currently holds 41,743 Arsenal shares, approximately 67.09 per cent of the club, having launched an initial takeover attempt in 2011, an attempt blocked by Usmanov.
KSE had made an offer of around £525million to buy the 18,695 shares held by Usmanov's Red and White Securities Limited in October, but saw that bid rejected.
Arsenal get their Premier League campaign underway against Manchester City on Sunday, in Unai Emery's first competitive fixture at the club.
Mirror Football